Jovian Whispers is Released!
Posted by Thorin Tabor on Aug. 10, 2021, 6 a.m.
Today we are happy to announce the release of Jovian Whispers, the second major campaign and expansion for Shadows Over Sol!
On April 1, 2209, without warning, all four Jovian colonies went silent. Two days later, on April 3, a single message was broadcast: "The Jovian colonies and associated satellites are now the property of Jupiter Group. Do not approach Jupiter. Do not transmit to Jupiter. Failure to comply will be met with force."

No one knows the cause of this mysterious event, but somewhere in the dark and ruined colonies of Jupiter the Insurrection Virus uses its clanking machines to plot the downfall of all humanity...
Jovian Whispers is a campaign and sourcebook for the Shadows Over Sol roleplaying game. Its features include:
A flexible campaign consisting of five core scenarios, plus numerous optional "side trek" adventures and ample room for GM-created personal plots.
Complete details on the Jovian colonies and the Jupiter Group Incident, with numerous plot hooks and potential for future adventures.
The secrets of the Insurrection Virus, the intelligent malware that caused the downfall of the Jovian colonies.
Plus, plenty of terrifying new foes and challenges to keep the players gasping in horror for years to come!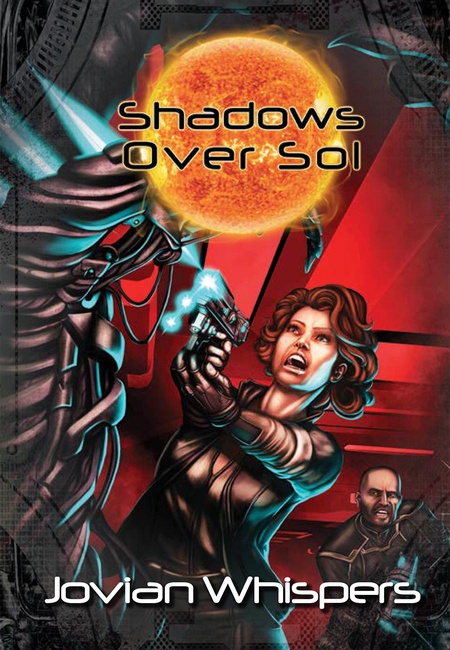 Jovian Whispers Update
We continue to make progress on the extras unlocked by the Jovian Whispers Kickstarter. Here is where everything currently stands:
Writing
Editing
Queued for Release
Trouble on Jackral V (One-Sheet Scenario #1)
Fate of the Calamitas (One-Sheet Scenario #2)
Outbreak on Adrastea (One-Sheet Scenario #3)
The Aerarium Contingency (One-Sheet Scenario #4)
Sol System poster map
Released
Jovian Whispers campaign and sourcebook
---
Share Post
---